DDI's Multi-family Construction Expertise Allows Us to Deliver More than Cabinets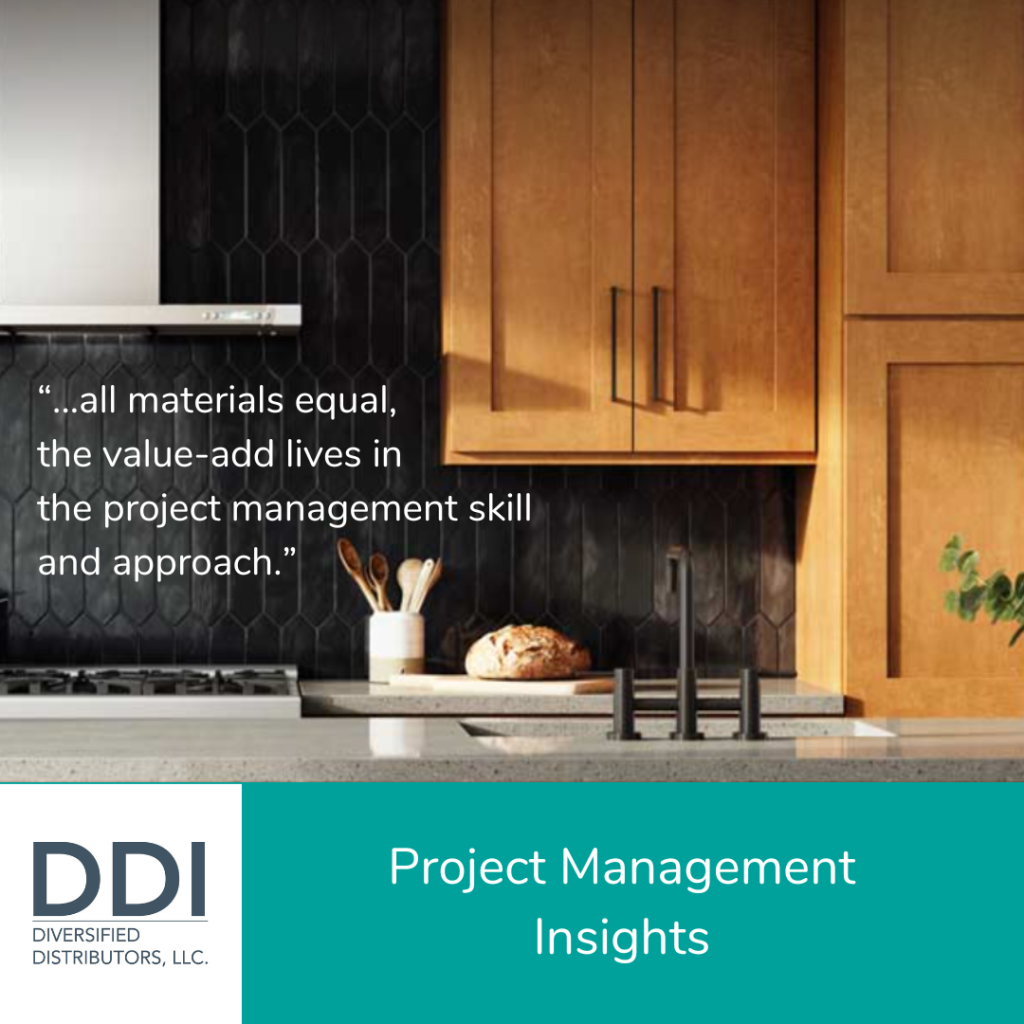 DDI's project management team has decades of experience in related construction trades, products, and labor, allowing DDI to remain niche-specific in cabinet design and supply while applying that broader understanding to benefit its customers. In this interview, a DDI project manager talks about his role and how he approaches tasks, building customer relationships, and the ultimate measure of success.
DDI is in the business of delivering an end product. That product is the sum of many interior building materials and finishes that have been specified in a highly technical and extremely integrated way. It's not uncommon to have 15 53' truckloads – a kit of parts – arrive on a job site over the course of supplying materials for a 200-unit multi-family building. "When you look at everything that goes into creating an efficient process for DDI's customers, of course it is about the product," says project manager M.K., "But all materials equal, the value-add lives in the project management skill and approach."
M.K. joined DDI in 2020 and has 17 years of prior experience in construction roles. He's familiar with and has a broad view of products on the market. Because he's quoted and met obligations for installations he understands cabinet construction very well, including the adjacencies and the interdependence of products. This experience informed his work ethic and personal project management style. It's the reason why he's always considering the other components of the project. "While I know something isn't technically my responsibility, I know that if I don't pay attention to the moving parts, in the end I'll end up being part of the solution if something goes wrong."
M.K.'s approach aligns with DDI. He says onboarding was like fitting a square peg in a square hole. One particular distinction he appreciates about DDI is its ability to access a larger customer base and bid more jobs and jobs that are nationwide. The company can make decisions solely based on the best fit between material and project, and that drives better projects results. "Ideally we operate as a supplier of product in high volume for multi-family projects. We're not uniquely designing for every unit, but it is very technical, delivering enough product for 15-20 units in any one shipment," M.K. says. At this mass scale – essentially delivering enough product at any given time to build out one floor of an apartment building – the impact of project management and getting every little detail correct is significant.
The process of working with DDI project management begins with a comprehensive understanding of the project. "At the onset of any project, I get all of the details. I go in with the intent to troubleshoot, ask the most detailed clarifying questions to the point of exhaustion," M.K. shares. "I'm seeking information that tells me the best time to do a walk through, get measurements."
Throughout the project management of any given project, DDI project managers are tracking product shipments, keeping their customers informed, and aiming for a clean delivery that has all the right stuff that they need. "Once the product ships out of the plant and arrives onsite, the execution shifts to the general contractor onsite," M.K. notes of the process. "Everything is labeled with a unique identifier and the GC's are following the floor plans, elevations, and drawings to install."
"It's definitely a satisfying moment to confirm a jobsite's product arrived as anticipated, undamaged," says M.K. "Sometimes, I do get that call and there are issues to resolve. It's just part of the process and I'm going to confidently respond with options. These are also the moments that rely on the foundation of a good working relationship with your customer. And if you've been doing your job as a good PM, you've built this all along."
"Perhaps the most satisfaction on a job well done is seeing the end project fully built. There's a deep sense of pride and ownership. In the project management world, when projects go quietly and smoothly to their sunset, it's the best reward. It means that the process was efficient and painless, and that customer will opt to work with us on another future job."
— This DDI project manager's approach and track record as a DDI project manager is part of what helps us to win work. At the beginning of any project, we know that the potential is the same. So all things equal – the project management and attention paid at critical moments makes all the difference.