DDI's Attention to Detail Delivers Project Results and Peace of Mind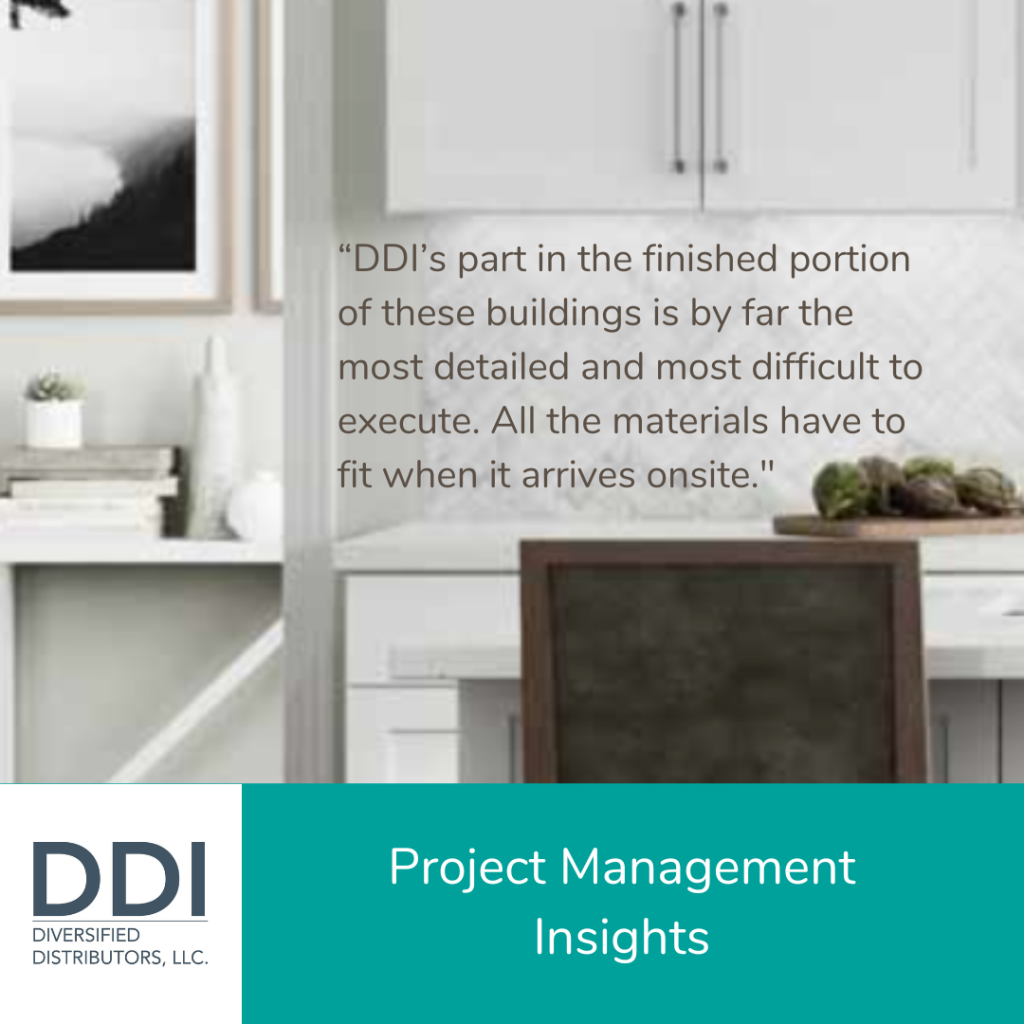 DDI's project management team works directly and collaboratively with job superintendents. They build relationships over the course of a project by being onsite at key points, proactive in communication, and serving as a creative partner in evaluating options and decision-making. In this interview, DDI project manager Jennie Weiland talks about her role and how she works to be detailed, adaptable and flexible, and raises the bar for clients by always being one step ahead.
Project managers at DDI all have a unique style of working with their job superintendent, DDI's internal purchasing team, and outside manufacturing partners. Across the board, though, there are commonalities and standards of excellence that enable DDI to deliver a high level of service. As the senior team of project managers are training in new project managers (PM) and growing, the ways to reach success are being discussed, modeled, and improved upon for the benefit of DDI's clients.
"Day to day, my workload is very different, and the ebb and flow of projects is a constant," says project manager Jennie Weiland. "At any given time, I might have 15-20 active projects in various phases from bidding to ordering to final product delivery. That's pretty common for most of our PMs."
Weiland joined DDI in 2014 after spending the majority of her career in interior design roles. "I sort of fell into this project management role and was surprised how much I liked the technical and detail aspects," notes Weiland. "It affords a lot more creativity than I would have initially assumed. It's exciting to complete a large-scale project knowing the endless amount of details I processed to make it happen in the most seamless way possible." This sentiment speaks to the PM role of being responsible for every detail, and being creative in the planning, collaboration, and communication on projects.
In the planning process, DDI's form of visual communication is the focus. PM's take the architect's shop drawings, input them into DDI's 2020 Design software, and comb over it for functionality and feasibility issues. "Often times we'll have changes that need to be made at the forefront and we'll work through those with the architect and team," Weiland says. "The back and forth with such great specificity demonstrates how DDI's part in the finished portion of these buildings is by far the most detailed and most difficult to execute. All the materials have to fit when it arrives onsite."
Throughout each project, there's a spirit of collaboration all around that DDI fosters with all clients. That's also reflected internally at DDI. "The PM role is challenging and requires working with others. I go to great lengths to ensure the project order is right – working with the purchasing team and cross and double checking it all before it goes to the manufacturer to be produced," shares Weiland. "An error as little as 5/8ths of an inch can really throw a job site's 16 kitchens off. The details really matter."
When it comes to the relationship-building side of communication, Weiland likes to show up onsite and build a good relationship with the job superintendent. Some projects are so large that she can be measuring for the project's third phase while talking to installers who are finishing up the first phase to find out more about the installation experience. "It's exciting to be onsite in this way. It's like a real-time feedback loop that can inform future material adjustments. I can talk with them, be adaptable as we're working through project completion," says Weiland.
There's also a lot to note about communication styles and the logistics, timing, and delivery of information to clients. Evolving technology has truly made it possible to be more proactive with clients. Weiland says, "For example, we can now give exacting details of where any given truckload is en route in real time to our clients." Another larger-scale win for clients is that we understand each PM's personal project load and we can shift some things around internally to ensure attention is given to projects in a timely way. We're forecasting better on more elements than ever before. We're really raising the bar."
As DDI helps clients solve problems that arise, the key is to be quick and efficient in handling unforeseen issues. On many occasions, PMs will need to draw or visually present why a client or manufacturer suggested solution may or may not work. This is all part of the day in the life of a PM.
At the end of a project, Weiland shares, "Client thank yous aren't typically verbal. The sign of a happy job superintendent or client is that you don't hear from them because DDI and your execution was seamless and integrated. The thank you arrives in the form of repeat business. I do enjoy my work as a project manager at DDI. Its highly technical and follows a heavily repeated process. I appreciate the knowns in that because it means I get to do my job well yet be creative in improving my own process and helping others learn."
— Weiland's approach and track record as a DDI project manager is part of what helps us to win work. At the beginning of any project, we know that the potential is the same. So all things equal – the project management and attention paid at critical moments makes all the difference.